Real Good Foods makes a complete line of convenient, healthy meals you'll feel good about eating! From breakfast sandwiches to pizza, stuffed chicken to enchiladas, their meals are high in protein, low in carbs, grain free, certified gluten free, and made from real, clean ingredients. In this review, we will be trying Real Good Foods Bacon Wrapped Stuffed Chicken and their Grande Enchiladas!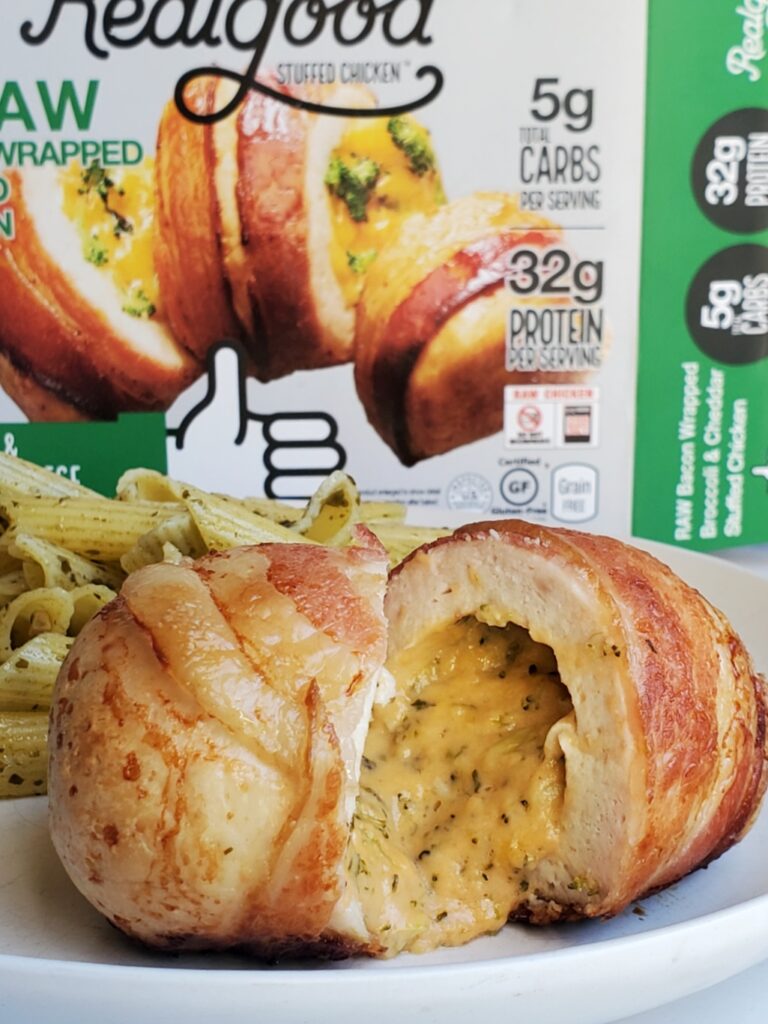 This post is sponsored by Real Good Foods. All opinions and photos are my own.
I don't rely on frozen foods often, but let's get real...I'm a mom of 4 and life gets busy. Sometimes(ok, a little more than sometimes!)convenience wins and when it does, I have three requirements:
The product is gluten-free AND celiac-safe for our daughter with Celiac Disease.
The product is made with ingredients that I can feel good about serving to my family.
It has to taste good!
Real Good Foods fits the bill! They're a small business with a mission to make more nutritious foods accessible to everyone, and that's a mission I can stand behind.
They have an amazing line of products that taste great and the whole family can enjoy!
Real Good Foods Bacon Wrapped Stuffed Chicken
This Bacon Wrapped Stuffed Chicken is perfect for a last minute meal because there's no thawing required...you can just pop it in the oven right from the freezer! Made with antibiotic-free chicken then stuffed with melty cheese, and wrapped in thick cut bacon!
It comes in three varieties:
Broccoli and Cheddar
Three Cheese: Mozzarella, Parmesan & Fontina
Pepperjack, Mozzarella & Parmesan
This chicken is absolutely delicious and bursting with so many flavors! I took it out of the packaging and baked it on a wire rack which helped the bacon crisp up. You could also try cooking it in the air fryer!
It makes a quick and convenient main course, or pair it with a salad or simple side for a well-balanced meal any time of day.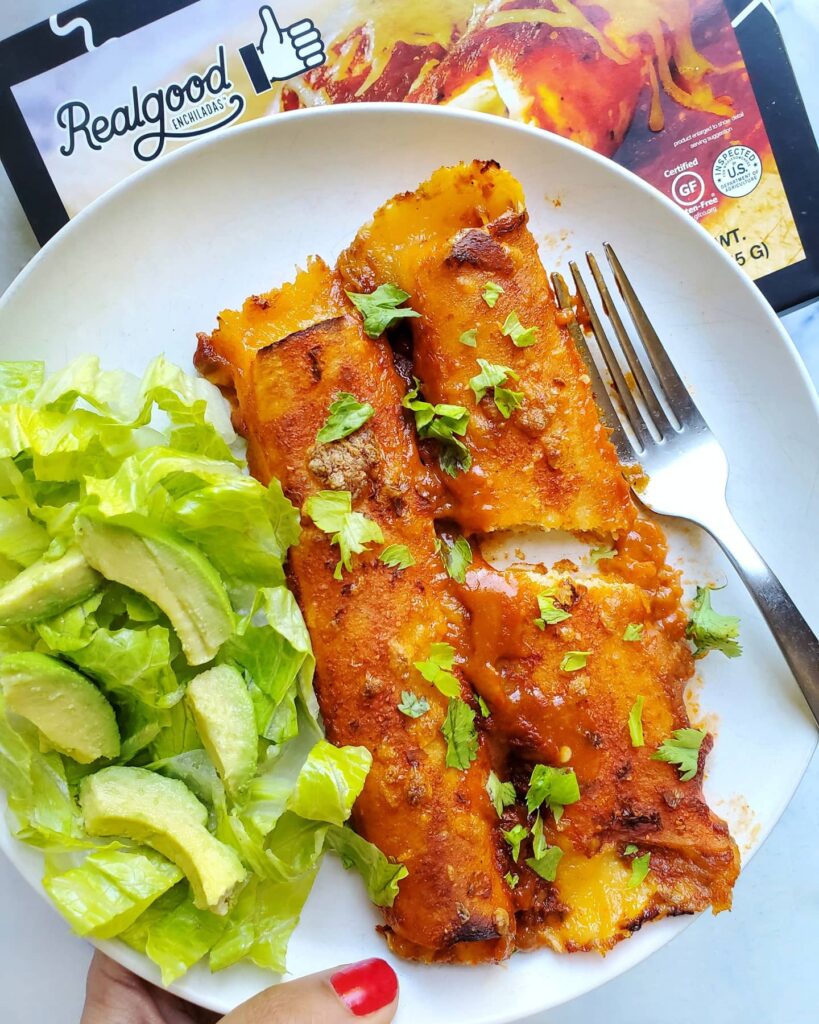 Real Good Foods Grande Enchiladas
These delicious enchiladas come in two flavors- Grande Chicken Enchiladas smothered in tomatillo sauce & Grande Cheese Enchiladas covered in red sauce.
Both are loaded with flavor, have over 20g of protein, and only 4g carbs per serving. So, I know what you must be thinking, "where are all the carbs?"...
Get this! The enchilada tortilla is made out of chicken and parmesan cheese! Say what??!! They're rolled into an all natural Chicken Breast & Parmesan Cheese "Tortilla" with no artificial ingredients, making them grain-free and are certified gluten-free.
The enchiladas come frozen then are baked in the tray that they're packaged in for about 30 minutes. There are also instructions for the microwave, but I choose baking over the microwave whenever I can to protect the taste and texture.
My husband absolutely loved these enchiladas(he ate 4 in one sitting!) and had no idea the wrap was made out of chicken until I told him!
Garnish these enchiladas to your liking with some avocado slices, fresh cilantro, and a side salad for a healthy & convenient meal that will satisfy your mexican food cravings!
Want to Try Real Good Foods for Yourself?
To see where to buy these products in your area check out the store locator on the Real Good Foods website. Both of these items are now also available at Costco locations nationwide.
They even have a 100% LOVE GUARANTEE! If you're not satisfied, Real Good Foods offers a 100% refund. Definitely a must try!