Get ready for a quick, family-friendly, no thinking needed, one pan dinner! This Trader Joe's Cauliflower Gnocchi Sheet Pan Dinner is gluten-free, dairy-free, paleo & whole30 friendly!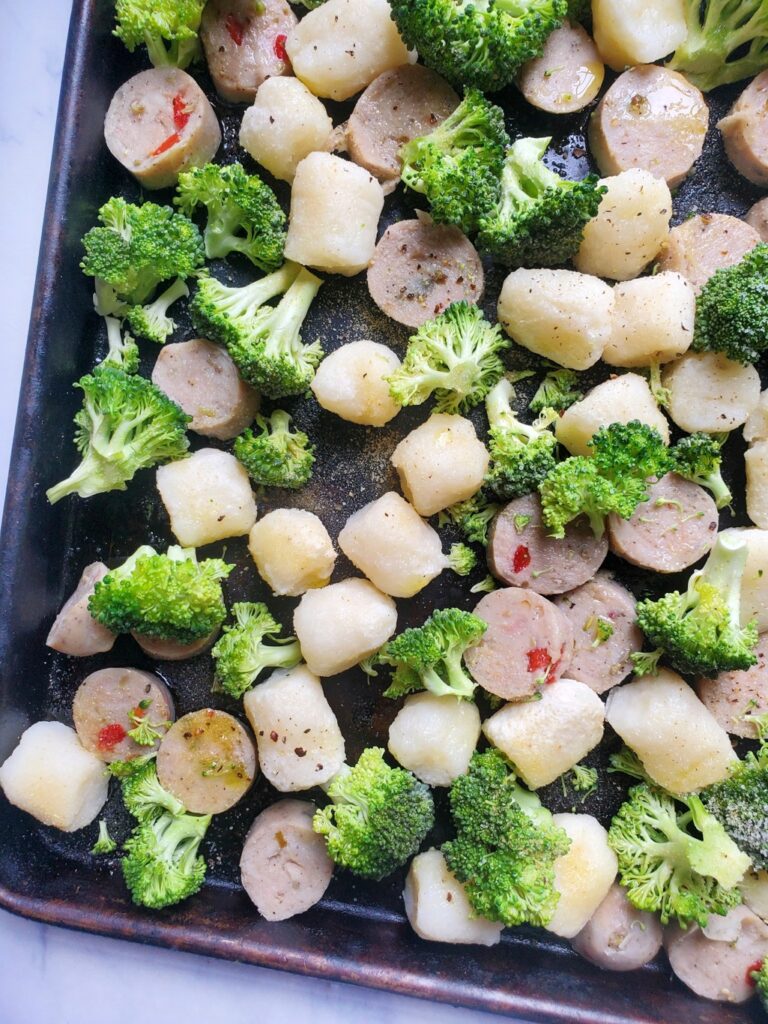 Have you heard all the rage about Trader Joe's Cauliflower Gnocchi?
If not, get prepared to hop on the bandwagon!
This healthy alternative to traditional wheat gnocchi is made with about 75% cauliflower- no gluten, dairy, grains or eggs! It's found in the freezer section of Trader Joe's, and at under $3 a package, it quickly became one of my favorite Trader Joe's gluten-free finds!
I've used this gnocchi a zillion times, and I can honestly say that this cauliflower creation tastes just like traditional gnocchi. Pillowy soft on the inside and crispy on the outside.
Just don't follow the package instructions! Trust me on this one, mine turned to mush. I've successfully cooked it in a stovetop skillet with some butter, on a sheet pan like this recipe, or I've heard that the air fryer works great too!
So, whether you're in love with Trader Joe's cauliflower gnocchi or just jumping on the train, this meal is the perfect way to use it. It doesn't even need to be defrosted! Just toss it with your veggies, chicken sausage, and seasonings then it's ready to pop in the oven. Super simple!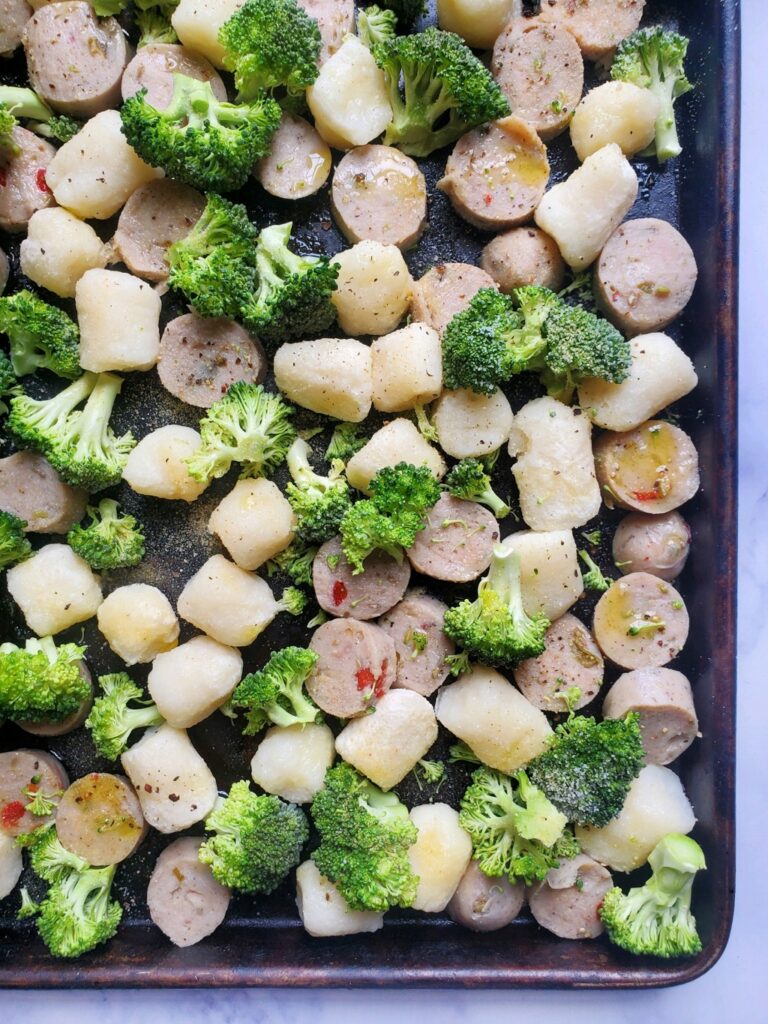 Combining everything on one pan always makes for an easy weeknight meal. If you love a good sheet pan meal as much as we do, check out our recipe for Honey Mustard Sheet Pan Dinner or this Fall Harvest Sheet Pan Dinner. Make sure you use a large sheet pan so your foods aren't overlapping and cook evenly. I always recommend using this mega 15x21 inch pan for any of my sheet pan recipes.
What ingredients do I need to make this Cauliflower Gnocchi Sheet Pan Dinner?
Here's what you'll need:
Trader Joe's Cauliflower Gnocchi. Two bags, because one just isn't enough!
Chicken Sausage. I used chicken & apple flavor in this recipe, but you can stick with whatever flavor you like.
Vegetables. Long cooking vegetables work best for this recipe. Think broccoli, brussels sprouts, onions, etc.
Seasonings: garlic powder, salt & pepper.
Pesto for dipping.
In order to keep the gnocchi crispy while cooking, I kept the oil and seasonings to a minimum in this recipe. Once the dinner is cooked, we love topping this meal with our homemade dairy-free pesto or keep it simple with your favorite marinara.
This Trader Joe's Cauliflower Gnoochi Sheet Pan Dinner is incredibly delicious fresh out of the oven, but also tastes incredible as leftovers the next day!
Let's Eat!
Trader Joe's Cauliflower Gnocchi Sheet Pan Dinner
This Trader Joe's Cauliflower Gnocchi Sheet Pan Dinner is a quick, family-friendly one pan meal! Gluten-free, dairy-free, paleo and whole30.
Ingredients
2

bags

Trader Joe's Cauliflower Gnocchi

frozen

4

Chicken Sausage Links

sliced ¼ inch thick

Veggies of choice: broccoli florets

cauliflower, brussels sprouts(halved), onions

2

tablespoon

Avocado Oil

½

teaspoon

Garlic Powder

½

teaspoon

Salt

Pepper

to taste
Optional
Pesto

or your favorite marinara sauce for dipping or spoon on top after cooking
Instructions
Preheat oven to 425°, prepare pan with parchment paper to prevent sticking & for easier clean up.

In a small bowl, stir together the oil, garlic powder, salt & pepper

Spread frozen gnocchi, chicken sausage and veggies evenly across baking sheet. If the gnocchi pieces are stuck together, let thaw for a few minutes and then gently break apart before baking.

Pour the oil mixture over everything and toss until well combined.

Bake for 25-30 minutes, stirring halfway through.

Serve with pesto for dipping.
Looking for more healthy recipes using your Trader Joe's finds? Check out these recipes!