Wondering which brands make gluten-free skincare & beauty options? This Gluten-Free Skincare & Beauty Products List will help make shopping easier! 
Gluten-Free Skincare
When most people think of being gluten-free, they typically think of food. But if you need to be gluten-free, there is a lot of debate about what you put on your body needing to be gluten-free too.
Read ALL labels!
When looking for a gluten-free skincare or beauty product, always be on the lookout for a gluten-free label on the packaging, just like you would for food. If you have Celiac Disease, gluten intolerance, or allergies it is possible to have a reaction to gluten-containing skin products. They could cause accidental ingestion or you could have a skin reaction.
We found this out the hard way, when my daughter was using a bodywash that contained "hydrolzed wheat protein". She got a rash all over her body with tiny little red bumps. Now we make sure everything from head to toe is gluten-free, and stick to the products & brands that we know and trust.
If you have Celiac Disease, you should be especially careful with products that can be ingested through the mouth:
Toothpaste
Mouthwash
Face wash
Lipstick/Lipgloss
Chapstick
Foundation
Moisturizer
Hand/Body Lotions
Hand Sanitizer *Bath & Body Works Hand Sanitizer CONTAINS gluten!
Nail Products
Sunscreen
Kid's Bubble Bath
Shaving Essentials
When reading labels, be on the look out for these ingredients that contain gluten:
Avena Satia(Oats)
Hydrolyzed Malt Extract
Hydrolyzed Wheat Protein
Triticum Vulgare(Wheat)
Hordeum Vulgare(Barley)
While there are hundreds of makeup & skincare brands, I choose only a handful of brands for this list who recognize the need to be 100% gluten-free, have a gluten-free label, and/or have a gluten-free statement regarding their product formulations.
You'll notice this list does not contain mainstream, drugstore brands like L'Oreal, Covergirl or Maybelline. These brands may have products free from gluten, but are usually not labeled gluten-free.
Can you still use mainstream products?
Yes, but you have to do your research! Read ingredients and call the manufacturer with questions. I find it much easier to stick with brands that are 100% gluten-free so there is no need to spend time thinking and you can just start shopping! Plus, you are supporting companies that acknowledge the need for gluten-free labeling and better-for-you ingredient policies.
This list will continue to be updated as I add or remove items, especially if the gluten-free labeling changes in any way.
Please remember to read ingredient labels whether it's the first or fiftieth time you're purchasing the same product. Companies are always changing their formulas and ingredients.
GLUTEN-FREE SKINCARE LIST
---
MAKEUP & FACE CARE
Certified Gluten Free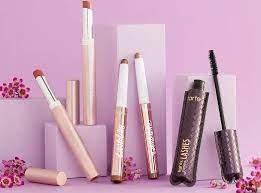 Certified Gluten Free
Certified Gluten Free
Certified Gluten Free
Certified Gluten Free
*Click here for FREE SHIPPING on $35 or more!

HANDS & BODY
Certified Gluten Free
SUN & SWIM
Ceritified Gluten Free
GLUTEN-FREE MEN
Certified Gluten Free
GLUTEN-FREE TEENS
Arbonne Clear Future
Certified Gluten Free
GLUTEN-FREE KIDS
Certified Gluten Free
Certified Gluten Free

Laundry care and household cleaners can also affect your skin as well as your gut health. Be sure to use a free & clear laundry detergent and natural cleaning supplies. Many fragrances and artificial chemicals are common irritants that cause skin reactions.
Here are a couple of our favorites:
*$10 off your purchase through this link!
Do you have a gluten-free skincare product that you love, but it's not on this list? Tell me below!
Are you newly diagnosed with Celiac Disease? Start your journey here.