These homemade Loaded Baked Potato Skins will make you forget that you're not at a restaurant! This gluten-free appetizer recipe is so delicious and easy to make. The potato skins get extra crispy coated with a seasoned butter sauce then fully loaded with bacon, cheese and green onions!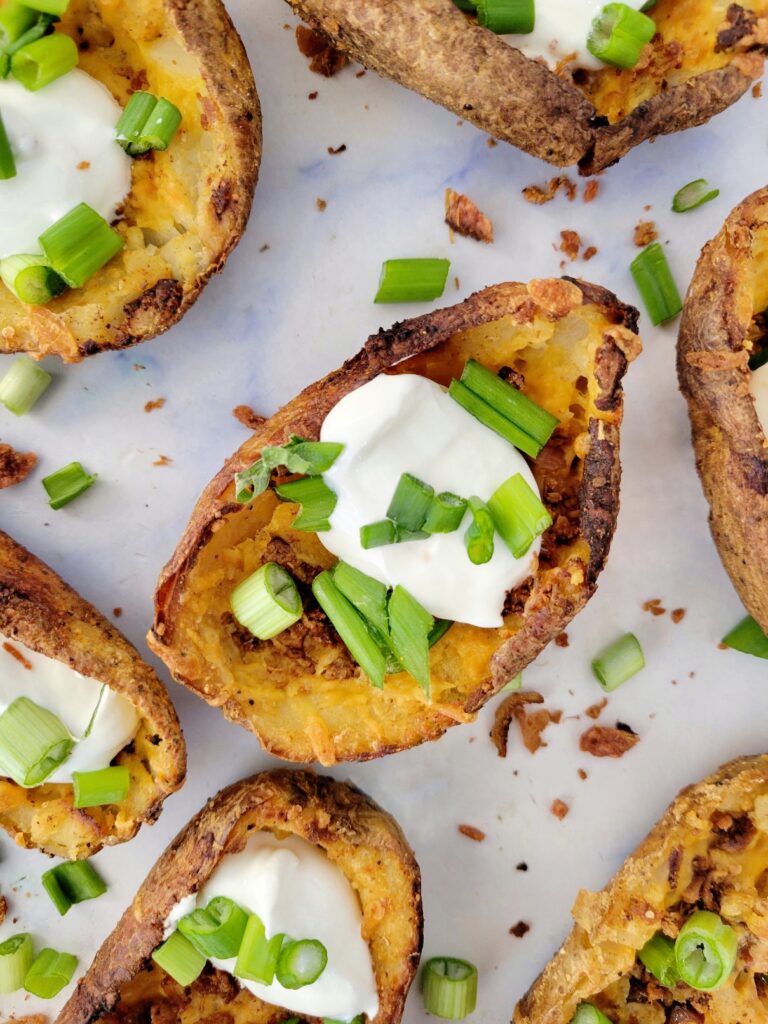 Loaded Potato Skins
Most restaurant style potato skins are deep fried and then the toppings are added. Typically this isn't a dedicated fryer making them a no-go for gluten-free diners.
This potato skins recipe is naturally gluten free, they taste amazing and are so simple to make at home.They can even be prepped ahead of time if you're having guests.
Here's what you'll need to make this baked potato skins recipe:
Potatoes. Russet potatoes work best for this recipe since the skin holds up well. Chooose smaller poatoes if you want a bite-sized appetizer.
Garlic Butter Sauce. The sauce gives the potatoes the best flavor and helps the skins get extra crispy. You'll need butter, garlic, paprika, parmesan cheese and salt.
Top with cheddar cheese, bacon, green onions, sour cream or whatever you like. The possibilities are endless!
Tip: Save the insides of the potato for another meal. Plan to serve mashed potatoes for dinner sometime in the next few days! Or you can use the flesh to top our favorite Shepherd's Pie recipe.
How to Make Potato Skins
Bake potatoes in the oven until tender. If you have an Instant Pot, you can use it for the initial baking to cut down on cooking time.
Cool before cutting-the potatoes will be too hot to handle right out of the oven.
Cut the potatoes lengthwise and use a spoon to scoop out the flesh. Leave about ¼″ of potato in the skin.
In a small bowl, combine melted butter, parmesan cheese and seasonings. Brush both sides of the potato with the sauce.
Return skins to the oven until they get nice and crispy! Top with shredded cheese and bacon and bake another few minutes until cheese is melted.
At this point you can top the potato skins with whatever you choose.
Here are some ideas:
For classic potato skins add cheddar, bacon bits, sour cream and chives or green onions.
Looking for a heartier option, add some BBQ pulled pork or taco seasoned ground beef.
Have you tried this recipe? Be sure to tag me on instagram @thrivingglutenfree so I can see how it turned out!
Let's eat!
Loaded Baked Potato Skins
Ingredients
6

Russet Potatoes

6

tablespoon

Butter

Melted

½

teaspoon

Garlic Powder

½

teaspoon

Paprika

½

teaspoon

Salt

2

tablespoon

Parmesan Cheese
Toppings
Shredded Cheddar Cheese

Bacon

cooked & crumbled

Sour Cream

Chives or Green Onions

chopped small
Instructions
Preheat oven to 375°. Wash, dry and poke the potatoes with a fork. Using your hands rub the potatoes with a little oil and sprinkle with sea salt. Place them on a baking sheet and bake for 50-60 minutes or until they are cooked through.  Let them sit until cool enough to handle.

Raise the oven temperature to 450°. Cut potatoes in half lengthwise. Using a spoon scoop out the the insides leaving ¼ inch around the inside of the skin.

Melt butter in a microwave safe bowl. Whisk in garlic powder, paprika, salt & parmesan cheese. Brush over both the tops and bottoms of the potato skins. 

Using the same baking sheet that you cooked the potatoes on, place in oven for 10 minutes.  Flip and bake for another 10 minutes.

Top with shredded cheese and bacon.  Return to oven for 5 minutes or until the cheese is melted. Remove and top with green onions/chives and sour cream before serving.
Looking for more gluten free appetizers? Check out these recipes!
Bacon Wrapped Jalapeno Poppers