Get ready for an easy 30-minute meal! This One-Pan "Cheesy" Chicken, Broccoli and Rice Dinner is a quick, comforting skillet meal loaded with flavor and simple ingredients! Gluten Free & Dairy-Free.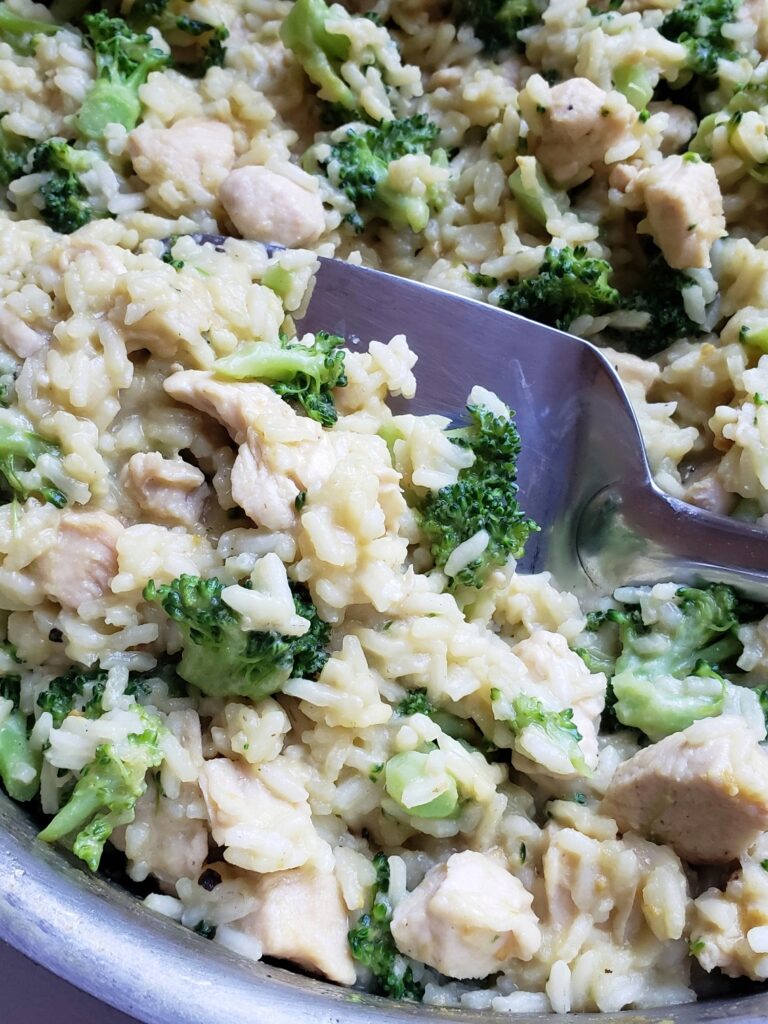 Easy Chicken and Rice Recipe
For those of you craving some cheesy flavor without the dairy, this is your recipe! Nutritonal yeast is used in this chicken and rice casserole as a dairy-free substitute and it works like magic to create the cheese flavor you are missing! If you've never heard of it, nutritonal yeast is a "cheesy" savory seasoning that doesn't contain any dairy!
This is the perfect 30 minute meal for busy weeknights that your entire family will love...even the picky kids! Chicken, broccoli and rice are all cooked in the same pan which means only one dish to clean. That's always a dinnertime win in my book!
What ingredients do I need to make this healthy "Cheesy" Chicken Broccoli and Rice Dinner?
Almost all of these ingredients are cooking staples that you probably already have in your kitchen! Here's what you'll need:
Chicken Breasts. You can also use already cooked shredded rotisserie chicken(2 cups).
Rice. Be sure to use long grain rice, not minute rice since the amount of liquid you use will be different. Long grain will also turn out much creamier. I always use Carolina Long Grain White Rice in this recipe which is certified gluten free.
Broccoli Florets. Chop your own, or go ahead and buy pre-chopped. Frozen broccoli can also be used, but be sure to thaw and pat dry to remove extra water.
Chicken Broth. Vegetable works well too! Use low sodium if you're concerned about sodium content.
Nutritional Yeast. I always use this one from Bragg's. You can check it out on amazon or most local grocery stores carry it in the organic food aisle.
Fresh Onion & Garlic. You can sub dried spices by using 1 teaspoon of each onion powder and garlic powder.
Salt & Pepper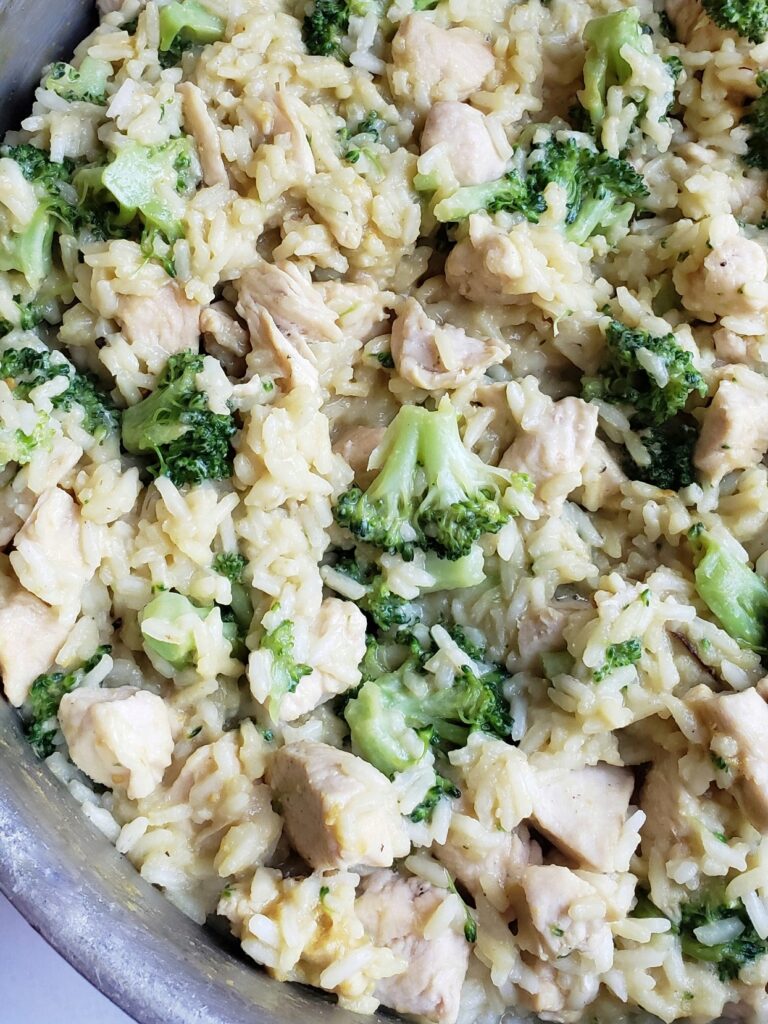 How to Make This Chicken Rice Casserole
This recipe is truly comfort food that you can feel good about and is so simple too!
Start by sauteing the onion and diced chicken, then add your seasoning, rice and broth. After that, cover and simmer about ten minutes.
At this point, when the rice is almost cooked, add the broccoli to the pan and continue cooking a few more minutes until the broccoli is fork tender.
The rice should take a total of about 15 minutes to cook, depending on what type of rice you use.
Finally, add in the nutrional yeast and stir until it's completely mixed into the meal. If there isn't enough liquid left in the pan after the rice is finished cooking, add some more broth or unsweentened plant-based milk until you get a creamy consistancy.
This recipe is easy to scale up for a crowd or reheat through the week for a quick & healthy lunch.
Have you tried this recipe? Be sure to tag me on instagram @thrivingglutenfree so I can see how it turned out!
Let's eat!
One Pan "Cheesy" Chicken, Broccoli & Rice
This one-pan "cheesy" chicken, broccoli and rice dinner is a quick, comforting skillet meal loaded with flavor and simple ingredients! Gluten & Dairy Free
Ingredients
2½-3

cups

Broccoli Florets

2

Chicken Breasts

cut in bite-sized pieces

1

cup

Rice

2½

cups

Chicken Broth

2

tablespoon

Oil

½

Onion

diced, or 1 teaspoon onion powder

2

cloves

Garlic

minced, or 1 teaspoon garlic powder

1

teaspoon

Salt

Pepper

to taste

⅓

cup

Nutritional Yeast
Instructions
Heat oil in a stove top skillet over medium heat.

Saute onions until softened, then add the chicken to the pan.

Brown the chicken and add the minced garlic stirring frequently so not to burn the garlic.

Add uncooked rice, season with salt and saute for a few minutes.

Add the broth to the pan and bring the mixture to a boil. Stir well.

Lower the heat to a simmer and cover.

Cook the rice & chicken mixture for about 10-12 minutes, then add the broccoli florets. Mix well to combine, then cover.

Continue cooking for another 6-8 minutes until the rice is fully cooked and the broccoli is tender.

Remove lid and add nutritional yeast. Stir well until combined. If you need to add more liquid after the rice is done cooking, stir in ¼ cup more broth or unsweetened plant-based milk until you get a creamy consistancy. Serve immediately or keep warm until ready to serve.
Notes
If using dried onion powder and garlic instead of fresh, add the seasonings when you add the rice, salt and broth to the chicken.
Looking for more easy gluten & dairy-free meals? Check out these recipes!