These Grain-Free Cassava Flour Waffles are so simple to make! Cassava flour is a gluten-free, grain-free & nut-free single ingredient flour with the neutral taste and texture of wheat. It's made from the whole root of the cassava plant and is perfect for baking.
Have You Tried Baking With Cassava Flour?
Cassava flour seems to be all the buzz on social media! I picked it up for the first time just recently at our local organic grocery store. I was intrigued at the claims that it could used as a gluten-free and grain-free 1 to 1 substitute for wheat flour recipes, so I quickly put it to the test with an old waffle recipe from back in our gluten-filled days!
I've only used it a few times so far, but I'm so glad I tried. Cassava flour can be pricey, but it was definitely worth it for such an easy grain-free flour substitution. My favorite brand of cassava is Otto's. I'm loving the results and will defintely be using it more frequently because of how versatile it is.
What ingredients do I need to make these Cassava Flour Waffles?
Besides the flour, you only need a few common pantry staples to make this easy and delicious waffle recipe! Here's what you'll need:
Baking Powder
Eggs
Coconut Oil
Milk
Cinnamon
Pure Vanilla Extract
Salt
Add the dry ingredients to a large bowl and stir to combine. Add the wet ingredients and whisk well until a batter forms. You may need to add a little more milk if it's too thick. Add the batter to your waffle iron and cook as you normally would for regular waffles.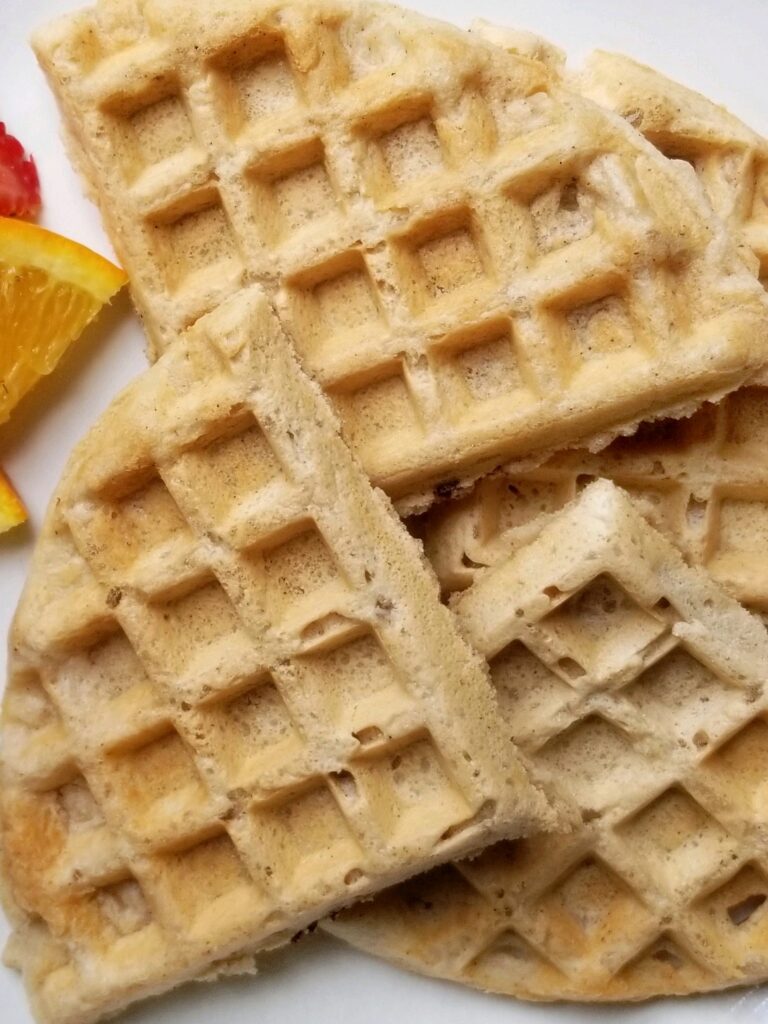 This Cassava Flour Waffle recipe could work well for either sweet or savory waffles. For a classic sweet breakfast waffle, this recipe includes vanilla extract and cinnamon. You could also add a couple tablespoons of pure maple syrup to the batter for extra sweetness, but I like to leave the sweetness to the toppings!
What toppings can I use for these Cassava Flour Waffles?
One of our favorite ways to top these waffles is with this easy homemade chia seed jam. The combo of the waffles and the fresh jam is so berry delicious!
Here are some more ideas!
Fresh Fruit, or a berry compote.
Pure Maple Syrup, or a drizzle of honey.
Carmelized Bananas
Peanut Butter or Almond Butter
Yogurt
Cream Cheese
For a savory waffle, all you have to do is leave out the cinnamon and vanilla. Now you're ready for some chicken and waffles, fried egg & avocado, or some grain-free sandwiches!
Don't be afraid to double this recipe and keep a stash of waffles in an airtight container in the freezer. Now, you can have grain-free waffles whenever you choose...breakfast, lunch or dinner!
Have you tried this waffle recipe? Be sure to tag me on instagram at @thrivingglutenfree so I can see how it turned out!
Let's eat!
Cassava Flour Waffles
Ingredients
1

cup

Cassava Flour

2

teaspoon

Baking Powder

2

Eggs

2

tablespoon

Coconut Oil

melted

1-½

cups

Plant Based Milk

unsweetened

½

teaspoon

Cinnamon

1

teaspoon

Vanilla Extract

¼

teaspoon

Salt
Serving Ideas
Fresh fruit, pure maple syrup, homemade fruit syrup, chia jam, peanut butter, yogurt or cream cheese.
Instructions
Preheat waffle iron.

Beat eggs in a large bowl until fluffy.

Mix in remaining ingredients until batter is smooth. If batter seems thick, add a splash more milk.

Pour onto waffle iron. Remove when crispy and golden brown. Top with desired ingredients.
Notes
If you don't use all of the batter at once, keep covered in the fridge for up to 3 days.
Looking for more grain-free breakfast ideas? Check out these recipes!