This is the best recipe for Crispy Sweet Potato Fries! Baked not fried, they're a healthy side dish or snack that's naturally gluten-free & grain-free. Dipping the fries in the homemade dairy-free ranch makes them extra yummy!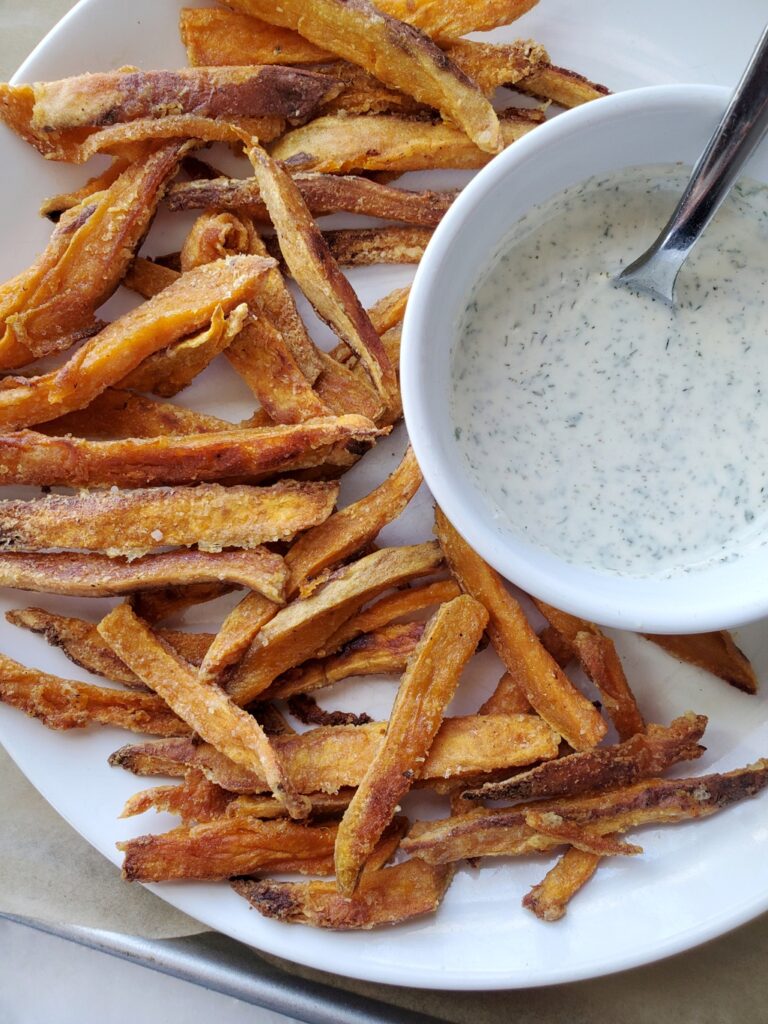 Crispy Oven Baked Sweet Potato Fries
Have you tried to make sweet potato fries at home just to have them turn out soggy? Yup, me too.
These homemade sweet potato fries are always a huge hit thanks to a secret ingredient that makes them crispy.
I can never say no to a plate of fresh cooked fries and sweet potato fries are a great nutritious to classic french fries.
What ingredients do I need to make these Crispy Sweet Potato Fries?
Sweet Potatoes. Choose long potatoes, instead of chunkier potatoes, because it makes them easier to cut!
Oil. I'm a big fan of avocado oil. We get a huge bottle of it from Costco.
Tapioca Flour. This is the secret ingredient that turns the fries from a soggy mess into crispy deliciousness.
Seasonings: Salt and garlic powder are used in the recipe, but feel free to sprinkle on a ¼-1/2 teaspoon of a few extra seasonings. Paprika, onion powder or chili powder are some great options.
Dairy-Free Ranch Dipping Sauce
I think dipping is the best part of eating fries so I made an easy dairy-free ranch sauce to go with the sweet potato fries. It's super simple, but does require a variety of spices. I believe that if you have a well-stocked pantry, you can literally make anything store bought at home!
Here's what you'll need :
Plain Unsweetened Greek Style Dairy-Free Yogurt. I always use Kite Hill Brand. IThe flavor is on point and it's also the perfect dairy-free sour cream replacement!
Apple Cider Vinegar
Seasonings: Onion Powder, dill, parsley, chives & seasoned salt.
Other ideas for dipping are good ole ketchup or we love this homemade garlic aioli.
How to Make the Best Baked Sweet Potato Fries
Peel & Cut the Sweet Potatoes. You'll want to cut evenly sized fries. Keep them thin and all about the same size to help them bake evenly.
Toss the Fries. In a large bowl, toss the fries with oil, then toss in a mixture of the tapioca flour and seasonings.
Ready to Bake! Have your oven preheated and baking sheets prepped with parchment paper to avoid the fries sticking to the pan. Don't overcrowd the pan...use 2 baking sheets if you need to avoid crowding or overlapping fries.
Flip! Be sure to flip the fries halfway through baking time to ensure they get crispy on all sides.
Crispy on the outside, creamy on the inside, and super delicious! You'll want to serve these fries immediately with your favorite dips.
These sweet potato fries are perfect as a side dish or an afternoon snack, and they're 100% kid-appoved! Serve alongside your favorite grilled meats, sandwiches or salads.
If you try this crispy sweet potato fry recipe, be sure to tag me on instagram @thrivingglutenfree so I can see how it turned out!
Let's eat!
Crispy Sweet Potato Fries with Dairy-Free Ranch
These Crispy Sweet Potato Fries are a healthy, naturally gluten-free side dish or snack. Dipping the fries in the homemade dairy-free ranch makes them extra yummy!
Ingredients
Sweet Potato Fries
2

Sweet Potatoes

¼

cup

Oil

I use avocado oil

3

tablespoon

Tapioca Flour

arrowroot or cornstarch will also work!

1

teaspoon

Salt

½

teaspoon

Garlic Powder

additional seasoning options: add ½ teaspoon of chili powder, onion powder or smoked paprika.
Dairy-Free Ranch Dipping Sauce
½

cup

Plain Greek Style Dairy-Free Yogurt

I use Kite Hill

½

teaspoon

Apple Cider Vinegar

½

teaspoon

Onion Powder

½

teaspoon

Dill

½

teaspoon

Parsley

½

teaspoon

Chives

½

teaspoon

Seasoned Salt

or to taste

Pinch of Cayenne Powder

Optional for a little heat!
Instructions
Preheat oven to 425°. Prepare 2 baking sheets with parchment paper if desired or lightly grease the baking sheet.

Peel and cut the sweet potatoes. Cut in half lengthwise, place cut side down, then cut ¼ inch slices lengthwise. Lay those pieces flat, then cut lengthwise again in ¼ inch slices, making sure all slices are similiar in size.

In a large bowl, toss the sweet potato fries in the oil until all are covered. Then toss in the tapioca flour and seasonings until absorbed.

Divide the sweet potatoes among the 2 baking sheets in a single layer making sure not to over-crowd.

Bake for about 15 minutes, then use a spatula to flip them. Bake another 10-15 minutes until browned and crispy. The fries will crisp up more as they cool.

The fries are best served immediatly.
Dairy-Free Ranch Dipping Sauce
Combine yogurt, vinegar and seasonings then stir until well combined. Refrigerate any leftovers.
Love this sweet potato fry recipe? I think you'll love these recipes too!