Get ready for some crispy, crunchy, perfectly roasted pumpkin seeds! Save your seeds from your pumpkins and roast them for an incredibly healthy snack that is gluten-free, paleo, vegan and so delicious!
Fall has arrived and pumpkin season is in full swing! Everywhere you turn there is a recipe for pumpkin bread or homemade pumpkin spice lattes. But to be honest, pumpkin puree gets all the attention!
You might be tempted, but don't throw away your pumpkin seeds! Or any winter squash seeds for that matter!! They can easily be roasted for a healthy snack that the whole family will love.
It might get a little messy, but that's part of the fun! And if you have kids, put them to work because my kids love the job of picking out all the seeds!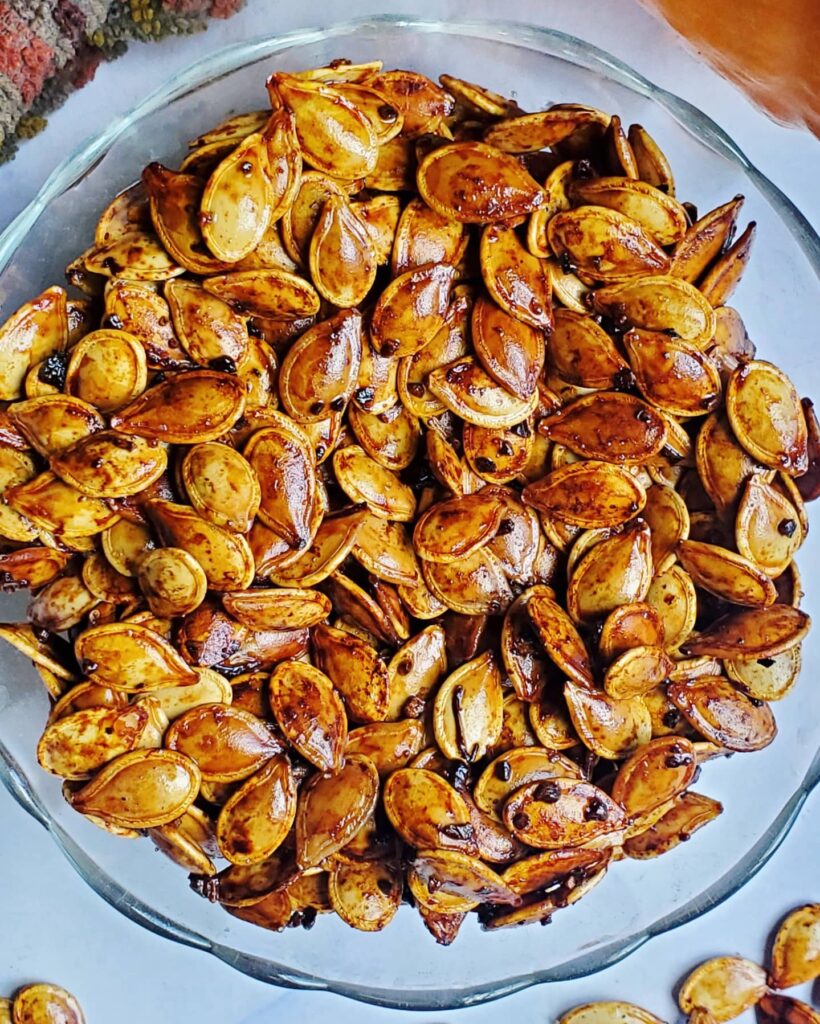 This recipe is my mom's who has been making these pumpkin seeds since I was a kid. Now we carry on the tradition with our own family, and seriously, it's worth the extra step of picking out the seeds because it's basically free food 😉
Let's Eat!
Roasted Pumpkin Seeds
Ingredients
2

tbsp

Oil

½

tsp

Salt

½

tsp

Garlic Powder

1

tbsp

Worcestershire Sauce

Use Lea and Perrins for GF
Instructions
Cut open your pumpkin by cutting a circle around the stem. Pull off the top then scrape out seeds using a large spoon.

Separate the seeds from large strings. If necessary, you can rinse the seeds in a colander under cold water to help separate the seeds from the strings. Towel dry the seeds as much as possible. It's ok to leave some small strings attached because they will get roasted and you won't even be able to tell!

Spread the seeds out on a large baking sheet. Toss them with oil, salt, garlic powder and worcestershire sauce.

Bake for 1 hour, stirring occasionally, until golden brown. Let the pumpkin seeds cool before eating.
Craving more Fall flavors? Try these recipes!